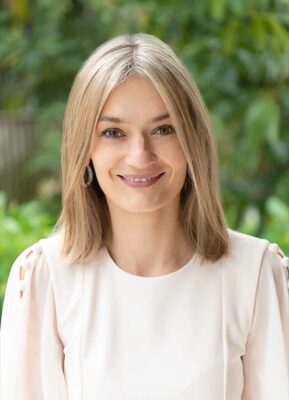 Claudia Kryszalowicz, P.A.
Realtor
License #: SL3466259
Claudia brings over seven years of experience in marketing, technology and sales to The Agency in Naples. She is known for her entrepreneurial spirit, creativity and keen eye for architecture, interior design and marketing through the visual arts. She specializes in the luxury home sector, sustainable real estate development and properties with makeover potential. Professional, polished and persistent, Claudia particularly excels at assisting buyers in finding hidden gems with investment value and helping them recognize the design potential of older homes. When it comes to marketing her listings, Claudia thoughtfully applies her passion for real estate and storytelling of high-end properties in the form of video and photography. She loves the intersection of technology and marketing, and uses dynamic social media platforms to advertise properties.
Originally from Germany, Claudia moved to the United States in 2009 to pursue studies in marketing, advertising and psychology at The New School, part of the Parsons School of Design. She eventually relocated to Miami, where she earned a Bachelor of Arts degree in Advertising at AI Miami International University of Art and Design. All of these experiences give her a cosmopolitan flair and unique global perspective, which allows her to develop instant rapport with international clients. She is fluent in three languages.
Claudia is a proud Naples resident with a decade of knowledge about the city and its recent transformation into a global luxury destination. In her free time, she enjoys biking, inline skating, yoga, golf, and keeping up with the latest technology and the art world.
Why Work With Claudia
FULL SERVICE EUROPEAN CONCIERGE SERVICE
In a market like Naples where a lot of buyers and sellers aren't here full-time, the ability to depend on Claudia to arrange all the necessary services required to buy, sell, or prepare your house becomes a crucial factor making your sales or purchases a dream. Claudia is a US citizen but she was born and raised in Europe, she has the cosmopolitan sophistication that comes with her international experiences.
INNOVATIVE TECHNOLOGY
Claudia uses her years of experience and knowledge with leading edge Real Estate technology to enhance the buying or selling process. Claudia captures video tours of properties for buyers who are out of town. She sends them an edited video that gives them the ability to review the property as many times as they need to in order to make the best decision.
For sellers, she is an expert digital marketer utilizing video, three dimensional virtual tours and photography to ensure prospective buyers fall in love with the property.